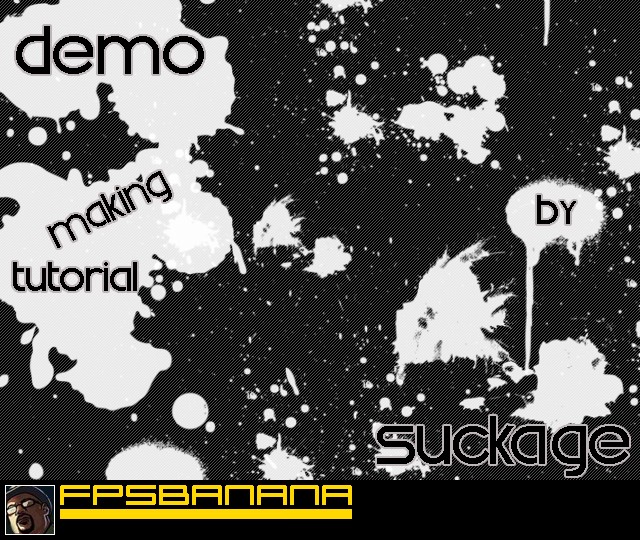 Introduction
Well, I've seen a lot of tutorials about this, yet not a lot of them have been detailed. I felt like making a good tutorial on the technique I personally use.
Basic Recording
For those who don't know, Source Recorder is a built-in recording system that is in every game that runs on the HL2 engine. Just open up your console, and when you want to record a demo, type
record [DEMO NAME]
When you want to stop recording, just type
stop
in your console.
Converting to video files
After recording demos, it is recommended that you'd remove ALL custom content and do all the changes you need. Then type the following commands into your console:
1A - Straight into an .avi (Thanks Zippit for this)
After recording, what you want to do is type startmovie [DEMO NAME] avi. Now there will be a small window where you're going to have to pick how are you going to compress it. Do not choose anything else than uncompressed, the compressing will be done later on. Now just type playdemo [DEMO NAME] in your console and that's it. The .avi files can be found in your Steam\SteamApps\username\counter-strike source directory.
PLEASE NOTE THAT THIS METHOD WILL NOT ALWAYS WORK AND MIGHT GIVE YOU CORRUPTED .AVI FILES - USE THE METHOD 1B IF THIS HAPPENS TO YOU.
1B - Frames and VirtualDub
This is an alternative way to doing 1A, but you might want to use this if the 1A method gives you problems or you just wanna be sure you're doing it right.
host_framerate [number] (30-120 recommended)
The host_framerate command defines how many frames will be recorded per second. 30 would be so 30 fps would be recorded. If you use a bigger digit, you're going to have to squeeze the vid to normal speed when you're editing. If you don't have the tools or don't know how, just use 30.
startmovie [DEMO NAME]
The startmovie command defines the name of the .tga or .jpeg files that will appear in your cstrike directory after doing this.
playdemo [DEMO NAME]
The playdemo command defines what demo shall be played. For example, if you, in the first step, typed "record 123" into your console, then in this case (and also in the startmovie one) you would type the same demo name. So now it would be "playdemo 123" and "startmovie 123". To stop playing the demo just press ESC and click Disconnect. This also works with the startmovie command, but another method is the command endmovie.
Demo playbacking commands
If you go past the part you want to start the frame recording at, don't worry. You won't have to watch the video all over again until you get to that part. There's the demoui command (you can alternatively press Shift + F2). It opens up a menu where you can go to a specific tick. If you want, you can also use the Demo Smoothing ability, just press the Smooth button on the menu. If you don't know what smoothing is, let me tell you. It's basically making key spots and using them controlling the ingame camera to go wherever you wish it to. That way you can get excellent angles, camera movements etc.
Sounds
If you want ingame sounds to play in your demo, then this is how you do it. First of all, make sure you've got 5.1 sound disabled. Go to Options > Sound and choose 2 Speaker Stereo (also works with the command snd_surround_speakers 2). When using VirtualDub, make sure you've got sound enabled. You might have to insert it manually.
Conversion to .avi
After doing all that, download VirtualDub. Install it and open it up through the .exe file. Go to File > Open. Then navigate into your cstrike directory, choose the first image (in this case, 1230000.tga or 1230000.jpeg). Make sure you've got Automatically load linked segments checked, otherwise this will NOT work. VirtualDub will now open all of the images in your cstrike folder. Delete all unnecessary frames and then go to File > Save as AVI or press F7. This will take a while, depending on how many frames will VirtualDub render per second. Now you have an uncompressed .avi file of your demo. You can either make a lot of these clips for your frag movie, or then if you just want one single clip, then compress that.
Compressing
You can compress .avi files with MyFFVideoConverter. After compressing (< 100MB for YouTube, < 1GB for FileFront), upload it wherever you want. Make sure the video file size is under the maximum limit of the uploading page.
Editing
Then you're practically done, you can also edit it with such programs as Windows Movie Maker (it's on your computer by default, unless you've got a Mac) or Sony Vegas 8. It costs some money, but if you're planning on just making one frag movie, a free 30-day trial is also available.
Compressing with MyFF
Just because I feel like it, I thought I'd also tell you guys some information on Vegas and MyFF. Let's start off with MyFF. If you really don't understand how to use this compressing tool, then I can help you ;) Open up MyFF. First look at the line that says "Import videos" on the left side of it. Click on the folder on the right side of the line. Navigate to your .avi file and open it. Let's say your .avi would be called "lol.avi". Now the output file should be named lol_agk.avi. Now you don't really need step two if you've already added necessary audio.
Editing with Sony Vegas 7/8
Now I can't really explain too well without making a tutorial about this subject as well, so let's make it quick. Download or buy Sony Vegas (any version will do), install it and open it up. Open your uncompressed .avi('s). If you have several, just open them up one at a time. Place them in the timeline as you wish in any order. You can also right-click the timeline for options such as text media. In the bottom left corner there are a few tabs that are quite useful. These are quite helpful, as you can browse for media, add transitions and such. The things you mostly need are the transitions - don't you want effects in your movie? If you just want simple fade in/out effects, then zoom in with the mousewheel (if necessary). Then you can probably see the small blue triangles in the corners of every video file on the timeline. Drag those as you wish to fade in and out. You can find several Vegas tutorials over the internet. The one I would HIGHLY RECOMMEND would be this one. It explains pretty much everything about Vegas.
Tips and Tricks
There are a few useful tips on movie making you'll find from this section, especially if you're doing this for the first time.
Recording with a low resolution is always the best solution if you want your video quality to be high. You can turn your settings as low as you want and use any skins during the recording. Once you get to the playback part, remove the custom content, put your graphics settings as high as possible and so on.
Don't record huge demo files. Try recording a maximum of 3-5 minutes or stop after you get some kickass kills.
Try using several useful commands to make your demo look a lot better. Some examples include:

r_drawviewmodel 0 // hides your weapon
cl_drawhud 0 // hides your HUD (Heads Up Display, includes your radar, health, round times, ammo and such)
hud_saytext_time 0 // hides every text message people type during the recording

If you don't want to use the cl_drawhud 0 command, you can always do as you might have seen in several frag movies - the awesome bar in the bottom to hide all of those annoying items there, such as health, round time and so on. You can add it easily with Vegas - the technique I used with that was:


 - Create a new document in a program you will be making the bar on.
 - Make the bar resolution <b>your recording resolution width x 103 pixels</b>.
 - Now make a new document, once again.
 - Make the document resolution match your recording resolution. So the resolution I used was 1024 x 768, since that's what I recorded with.
 - Make the whole document transparent. This can be easily done with Photoshop and other programs. There are a lot of tutorials in here about that subject as well.
 - Paste in the bar.
 - Go to Sony Vegas, and open the document.
 - Drag it to a new channel (channels are displayed left of the timeline).
 - Drag the bar to last as long as you want. I made it last for the whole video's frag part.


Try recording clips that are more than one frag. People don't want to see you kill one person and then changing clip, they want to see you kill 27 people with one shot (alright, maybe that was too much but you know the idea)
Avoid recording in custom maps, people WILL complain
Now you're done.
Hope you liked my "small" tutorial on the Source Recorder ;) I can also teach you with Sony Vegas and other video editing programs if you ever need.