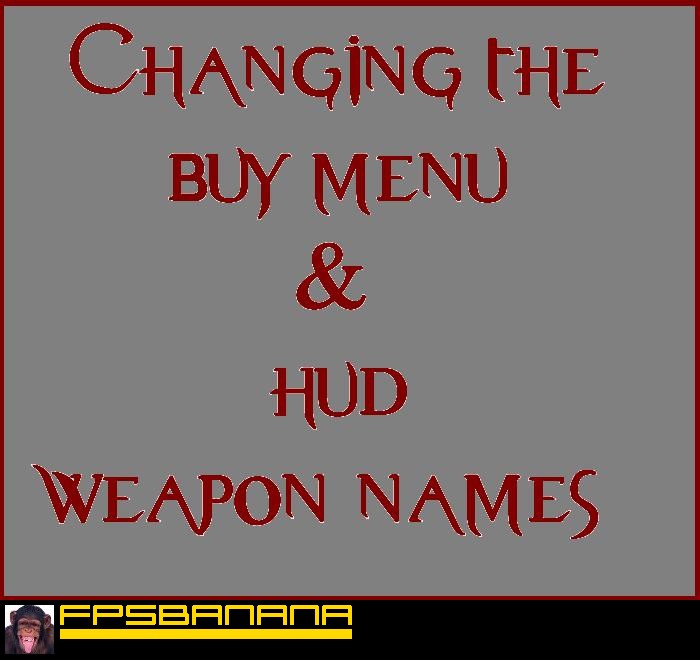 This tutorial explains how to change the text in the buy menu and on the hud so that it is different from the default 'IDF Defender' and 'Nighthawk .50c' etc.
I have already made a file that changes all of the weapon names to their real names in the buy menu and on the HUD, which can be found here: real weapon names
This tutorial will allow you to change the weapon names to the names of any custom guns that you have installed, to make the skin seem more authentic.
---
To start, you will need GCFScape, which can be downloaded here: GCFScape
CHANGING BUY MENU TEXT
Now extract the 'cstrike_english.txt' to somewhere on your computer where you can easily find it.
This is where you can change the names of each weapon by simply changing the text in the column ON THE RIGHT.
NOTE: It is important that you leave the quotes and the &1, &2 etc, as these are used for formatting, and will not function correctly if deleted.
---
CHANGING THE TEXT ON THE HUD (SEEN WHEN CYCLING WEAPONS)
In the 'cstrike_english.txt', scroll all the way to the bottom and you will find another list of the weapons:
Simply edit the column on the right hand side as you did before.
---
OTHER CUSTOMIZATION
If you take a look through the 'cstrike_english.txt', you will notice that there is a lot more than just the buy menu and HUD names, and everything can be customized so that it says what you want it to, for example you could change 'terrorists win!' to 'Counter terrorists suck!'. It's really just a matter of looking through this file and picking out certain information that you want to change.
Just be sure not to delete any formatting, only edit the right hand side, and save a backup in case you bugger anything up. EDIT: There is actually no need to keep backups, because the vpk will always contain the original file, which you can revert back to using by deleting the custom cstrike_english.txt you have made.
---
SAVING/PLACING THE FILE WHERE IT SHOULD BE
Save the 'cstrike_english.txt' that you have just finished editing, and place it in 'program files\steam\steamapps\common\counter-strike source\cstrike\resources'.
NOTE: DO NOT rename the file to anything other than 'cstrike_english.txt' otherwise it will not work.
One last note: If English isn't the language you use in CSS, then instead of opening the 'cstrike_english.txt', open the 'cstrike_your language.txt'
I hope you find this useful and easy to read.
Please comment.