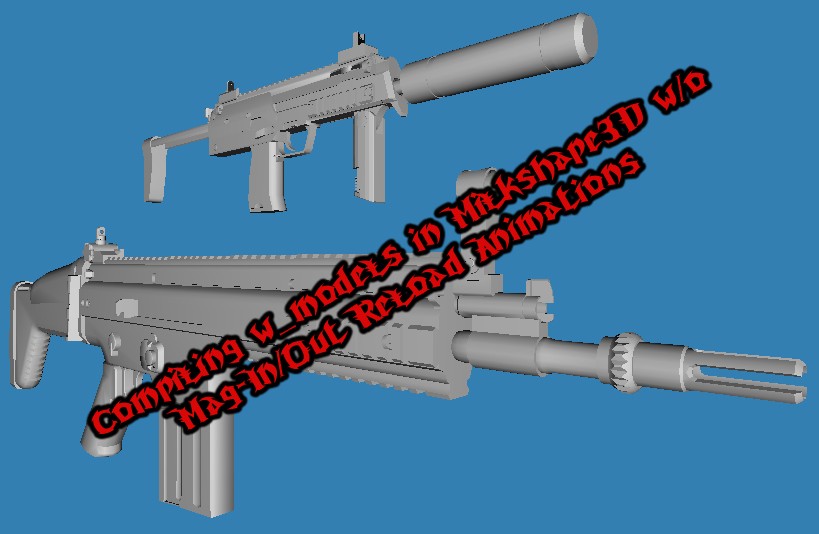 -OUTDATED- This tutorial explains how to make world models for CS:S weapons that don't use the mag in/mag out animation during reload times. However, some content in this tutorial is currently outdated and needing some updates. Although this method still works, please take a look at this updated tutorial (LINK COMING SOON) for a more up-to-date method. The newer tutorial will also cover how to compile your world models with the use of Crowbar and/or StudioCompiler 0.4a.
Since some people seem to have issues with their world models having a magazine that floats around, here is a tutorial on how to make
Step 1: Using Milkshape 3D, load/import the model you wish to edit/use for your world model (In some cases, you may need to load/import more than one model, but I'll save that for another time and use a model that I've already set up). Example Imported Model.
Step 2a: Add a lone vertex that doesn't connect to any part of the reference model(s), and then assign the lone vertex to the bones named "ValveBiped.weapon_bone" and ValveBiped. When assigning the lone vertex, make sure to include the rest of the model as well, otherwise you may come across consistency errors or odd stretching. Step 2a - Adding the lone vertex, Step 2b - selecting the bone.
Step 3: When assigning the ValveBiped.weapon_bone_Clip bone to the weapon, make sure to ONLY select the lone vertex while the bone mentioned in this step is still selected. Step 3 - Assigning the lone vertex to the bone.
Step 4: After assigning the lone vertex to the ValveBiped.weapon_bone_Clip bone, finish assigning any other bones you left unassigned and compile the weapon. After compiling the model, test it in your own server. If you come across any bugs like the ones mentioned in Step 3, make sure to restart from Step 1 by re-importing the model and proceeding through the steps again. It usually starts it over as a "clean model" (meaning that the bones are left unassigned), so there should be no issues going through and repeating the steps.