Every workman needs his own Rifle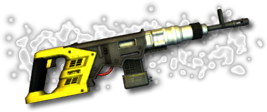 D.R.I.L.L. - Driferential RIfle for Long ranged Lines
Here is my entry to Powerful Tools contest, as you can see it's for Couter Strike: Source, replacing Famas (in my anims) or replacing Sig 552 (with Price's anims), it comes with 2 versions default and tactical, I hope u enjoy it as much as we enjoyed making it :D

August, 2007 - The British Interpol HQ detects an illegal ship named "Freighter W938" that carries a big load of cocaine. By the information collected by the Intel, The Boss have been supplied drugs to countries over all the Asia disguised as the head of big construction company in Bangkok, Thailand. In order to interfere with the supply of drugs in the area, the undercover agent, James Sutcliffe starts moving as a construction worker, armed with a disguised Rifle, a weapon that looks very similar to a power tool, nowadays named as Sutcliffe "D.R.I.L.L" - Differential RIfle for Long Ranged Lines, to kill the cartel head without get caught.
Now after the success of the assassination, and done with cracking one of the biggest international drug suppliers, D.R.I.L.L have proven it's power and precision. Nowadays, D.R.I.L.L can be found in commemorative replicas, and there are rumors that it still in use by the Interpol's secret service.

Here is a video preview, it's kinda dark but it shows the anims, if some of the awesome videomakers around here could make a better preview it would be great!